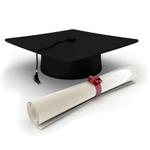 Last Friday, my work for Marketing took me to an orientation day Q&A session for several hundred first year engineering students. Before being bombarded by questions such as "what should I take to a lecture" and "should I use a Mac or a PC", I was fortunate enough to listen to a senior academic presenting some information about how to "pass MATH1110″ (MATH1110 seems to be rapidly becoming well known as "that subject everyone fails"). Upon consideration, "how to pass courses" seems to be a very commonplace topic across University at large. Whether or not this is the cause or the result of the "P's make degrees" mentality adopted by many students is something that I will not hazard to guess, but nonetheless, it is an epidemic which is causing perfectly capable and bright students from reaching their academic (and consequently career) potential.
As a result, I decided to write this article – "How to get straight High Distinctions". To put this into context, the idea that HD's are the domain of people who received 99 ATAR/UAI, or who otherwise have no lives, is a complete myth. In fact, amongst the students I have taught, it seems the individuals who regularly outperform the majority are quite social people, who often invest a lot of time and effort into external and unrelated past-times. They aren't geniuses, but simply motivated. Let's take my own grades from last semester as an example:
Despite having a lot of external commitments (teaching, music, martial arts training, etc.), I was still able to manage some quite healthy high distinctions, purely by managing my time and study correctly. Below I outline some of the lessons I have learnt over four years as a university student – advice that should, in theory, help you increase your academic performance without taking away from your social life or working commitments (in fact, you may find you have more spare time as a result from allocating your time more efficiently!)
1 – Manage your time
Perhaps counter-intuitively, it has been my experience that having more spare time actually reduces my productivity in all areas. The more I try to jam into a 24-hour period, the better I seem to do at everything. I imagine this type of psychological waffle varies from person-to-person, but I certainly recommend you actively investigate what structure of daily events maximises your productivity and motivation, and stick to it.
More importantly, keep a calendar of due dates of all assessment items / examinations for all your subjects, and stick it somewhere where you will see it every day. I chose directly behind my PC monitor, so it's perpetually lurking in my periphery. Have it haunt you. I guarantee you will never have another assignment or examination sneak up on you again.
University marks are not a function of your intelligence. They are a function of your ability to self-manage.
2 – Over-perform in assignments
There is no excuse why you cannot get 100% in all your assignments (or at least very close!). You are allocated several weeks (typically) for an amount of work which can almost certainly be completed in considerably less time. Not only that, but you have a marking criteria (if not, ask for one), access to any text book or online tutorial you want, a class full of people working on the exact same task (I'm not encouraging plagiarism or collusion, but there's nothing wrong with asking for a bit of help if you're stuck), and a lecturer who is being paid to sit in his/her office and answer any question you may have (a.k.a. consultation hours).
You can never be fully prepared for curve-ball questions or stress-induced moments of temporary insanity in exam situations, but assignments are free marks, and should be treated as such. If you take a look at my marks from 2011 (see above), I'll let you in on a secret – I had 100% assessment marks going into all of my final examinations. I still managed to drop down to a 93 in one course – 7 course marks in an examination that was only worth, from memory, 30%. If I'd been content sitting on 90% in all my assessment items throughout the semester (which I guess the vast majority of you would be!), I would have missed my HD. Keep this in mind, and ensure the mark you aim for in assignments is higher than the mark you want on your transcript, or you're doomed to disappointment.
3 – Study efficiently, not excessively
Reading notes is not study. Similarly, picking up an exercise book and summarising the entire course into 500 pages of hand-written waffle with the original notes sitting beside you isn't study. It's an epic waste of time. I literally filled 5 192-page exercise books with notes and exercises for MATH2420 back in 2009, and despite the fact I scraped in my HD, I'd forgotten the vast majority of the content 2 weeks later.
Writing notes is effective iff (if-and-only-if) executed in the correct manner. Read your page of notes, put it aside, then write your summary from memory. If you can't reproduce the information without reference one minute later, you certainly will not be able to the next day or week. Similarly, when working through exercises, don't have similar examples or worked solutions available to glance at. Do as much as you can without supervision. Stop. Check where you went wrong. Close your notes, turn to a new page and do the entire problem again. Repeat process.
4 – Use "cheat sheets" correctly (a.k.a. avoid MATH1110 syndrome)
I have a theory about MATH1110's legendary status, and it's one that I like to repeat at every opportunity (and one that will probably get me in trouble from the math faculty one day). Allow me to share.
When I completed MATH1110 in 2008, we were allowed to take three things into our final examination – our pen, our calculator, and our brain. In my honest opinion, this is extent of what should be allowed into any exam. The fail rate was high, and as a result, the math faculty decided in 2009 to allow students to bring a cheat sheet (for those who aren't familiar with this term, a "cheat sheet" is a double-sided a4 page of hand-written notes) into the exam. Evidently the fail rate was either equally as poor or perhaps worse, as in 2010, the policy was extended to allow students to bring a text book of their choice (not a typo) into the exam.
Astonishingly, to the best of my knowledge (I should note that I have not been shown any official statistics), the fail rate did not improve, and herein lies the foundation of my advice. For any course where you are allowed to take notes of any form into the final examination, assume you are not, and study accordingly. It's far too easy to be slightly confused about a method or question, so rather than asking for assistance from their lecturer/tutor or practising more examples, students just write it on the cheat sheet. Come the final exam where the questions require a fundamental understanding of a topic rather than a few rote-learned examples, the cheat sheet proves useless. The problem is amplified in the text book case – by the time you look through your 1000+ page Calculus text book to find a related example and make sense of it, then modify the procedure to suit the problem at hand, the examination will be half finished. Know your course material, commit your important equations to memory (and if you struggle to remember an equation, it's because you do not understand it), and use your cheat sheet / text book as a backup to check your work or clarify points you are not entirely confident with.
All of that being said, cheat sheets are an amazing tool for study, as they force you to make enough sense of 12 weeks worth of content that you can succinctly describe it on a single sheet of paper. I actually write one for every course prior to the final examination – even if I am not allowed to take it into the examination itself.
5 – Share your knowledge with others
There is no greater way to test whether you understand a topic than to try and explain it to somebody else. In fact, you may be suprised to discover that you lack a fundamental understanding of something you assumed you understood fully. Why do you think I tutor? By teaching others, the concepts are reinforced in my mind, which allows me to perform better in my own courses. As a result of my better grades, more academics approach me with offers to teach more challenging courses. Positive feedback 101.
I realise that the opportunity to hold a formal teaching position is not available to every student, but the process can be emulated at many different levels. Organise group study sessions. Help out the guy in the back row who is clearly struggling with his tutorial problems. Teach your bird to recite the Schrodinger equation. As silly as this may sound, I guarantee that all of these approaches will help solidify your understanding of course content, and as a result, obtain substantially better grades.
In conclusion
University is a perfect example of "you get out what you put in". Despite the fact that, in a literal sense, "P's make degrees" is not an inaccurate assertion, the people getting a transcript full of P's are paying the exact same amount for their education as those who frequently earn marks in the 90's. Arguably, they statistically pay more, upon discovery that the margin between 51 and 49 is actually very slim; and don't forget that there are literal millions of dollars worth of undergrad scholarships floating around the university for those who show a little initiative. Not to mention the opportunity to graduate with honours and potentially pursue postgraduate study, which opens up an entire world of new and fascinating opportunities.
Nevertheless, if my perpetual optimism and academic passion hasn't rubbed off on you, and you've reached the end of this article not particularly caring about the effective difference between a 55 and a 95, keep this in mind – a large proportion of students who aim to pass, fail; I am yet to meet a student aiming for a high distinction who has met the same unfortunate fate.